So. Here we are again.
It just occurred to me that it has been 15 days since I last posted about something, when I actually wanted to write more posts about some more things. But anyway… here we are again.
In September 2019, I went to an event called "Berlin Graphic Days" in Kreuzberg and after a confusing two hours (the artists were so talented and I wanted to have all the stuff they sell but I couldn't because well they all cost some fortune), the artwork of my choice was this one. A poster of a cat with a rather poker face, walking in a setting that is (supposed to be?) Berlin, now hanging on my door.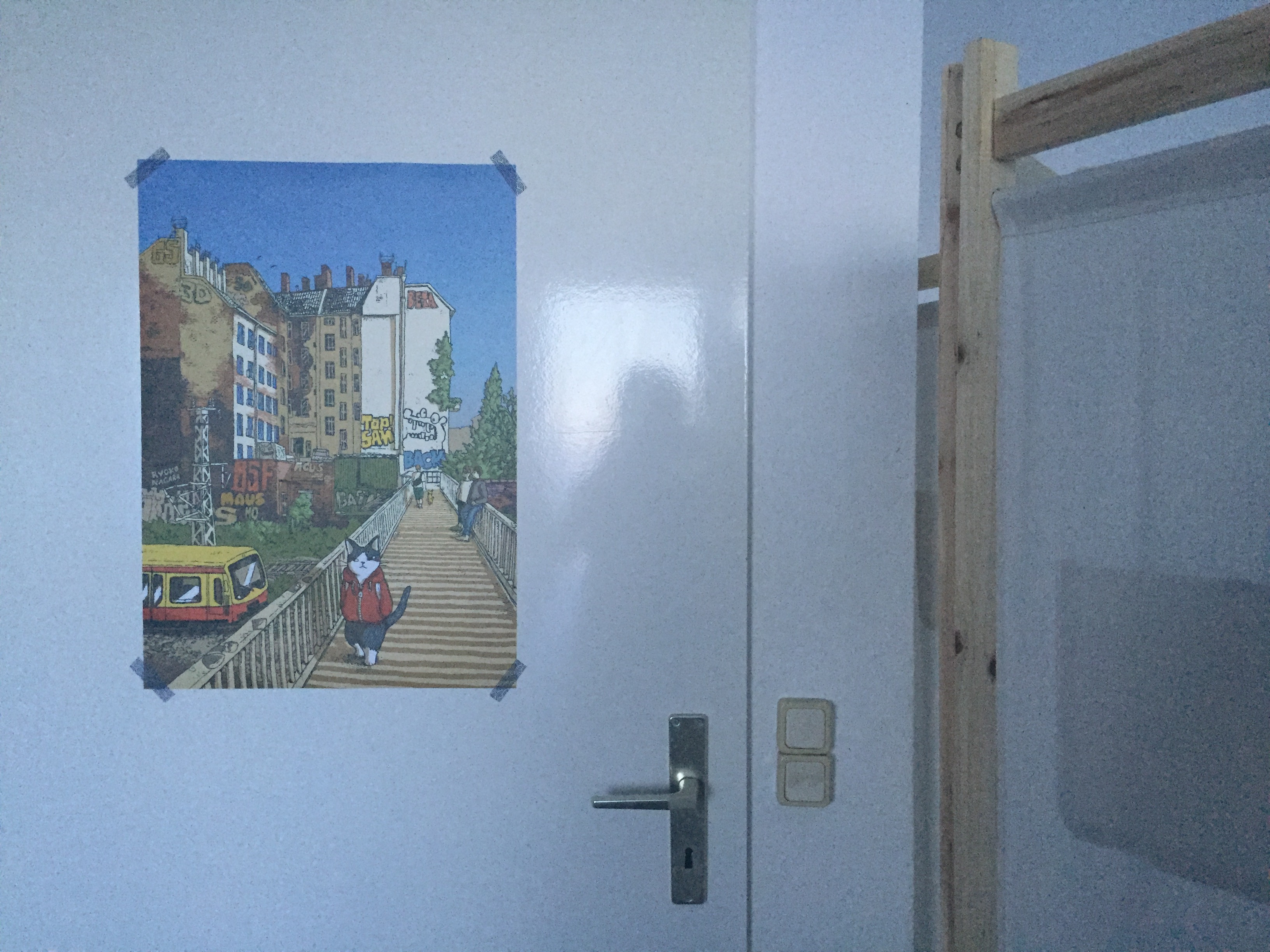 I know by now you're already thinking of at least two points. One: Someone who lives in Berlin isn't supposed to have something Berlin-ish featured in his/her home, just like it is a crime for someone from New York to have a global kitsch phenomenon of I-HEART-N.Y.-anything. Two: Don't you have money to buy a nice frame for the poster instead of pasting it on your door with washi tape?
My responses to these are; One: Yeaaah? But it's cute! And Two: Yes, I don't have money to buy a nice frame. I actually get almost all of my furniture and plants from this amazing Facebook group called 'Free Your Stuff Berlin', and admittedly, one of my biggest skill-sets is transporting anything I bring home from the people in this group with only public transportation. Home-office-sized printer? Two-meters tall plant? An office chair? Bag full of glasses and cups?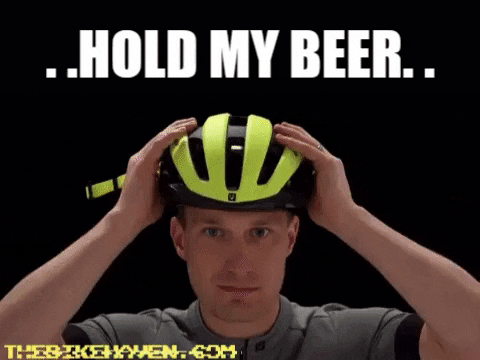 (*and besides being thankful, I also support the idea of sharing instead of buying, partly because of my limited budget and partly since it's just a much more beautiful and healthy world if we all consume less.)
Whoa. Before it gets off-trail even more quickly, let's get back to the cat poster.
It is a part of the series "Katze'n' Berlin" (Cats in Berlin), made by the Japanese artist Ryoko Nagara, whose Instagram I just found out later that now you can enjoy her work in better resolution. In the beginning, what I really liked about the poster is its pseudo-anonymity: that it gives away visual clues of Berlin (graffitis, some parts of a derelict 19th-century housing block, the S-Bahn train, stickers everywhere) from a random location, without explicitly using the city's more famous symbols (..unlike her other artworks in the series depicting the TV Tower or Oberbaumbrücke).
(Well, of course at that moment I didn't know her Instagram yet, which means I didn't read the caption that says the scene is drawn from somewhere nearby Schönhauser Allee. But now let's pretend you don't know it too, for the sake of the story. :))
I appreciated the mystery quite well and didn't ponder further where the artist may have had her inspiration. Until yesterday, when I was reading an article in citylab.com on Berlin's old tenements, and I saw this photo: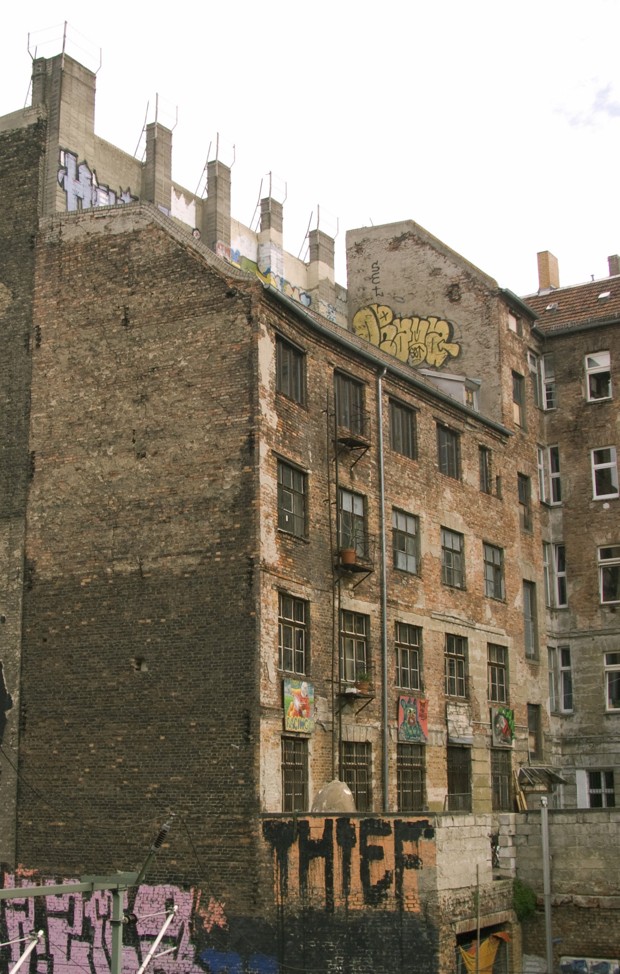 I was at home that day, so it only took me a second to turn my head from my laptop screen to the poster. And then back to the screen. And then back to the poster. And then back to the screen.
My dear friends, the conundrum of my Berlin-themed-cat-poster-that-I-am-not-exactly-sure-of is… solved.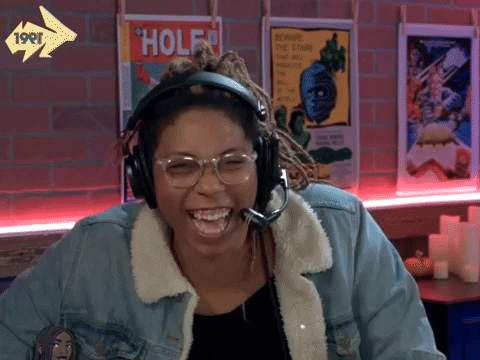 But actually, not really. Prenzlauer Berg is a district around 11 square kilometers in size, and it's too much, if not a waste of time, to really browse through all of them in Google Maps and Street View. (Which made me realize what a privilege we have at this age to be able to browse things through Google Maps and Street View.)
Nevertheless, my poster gave me some possible hints. If the artist drew the scene from an actual location, it may as well be somewhere alongside the S-Bahn track with a pedestrian bridge. After looking for a couple of minutes…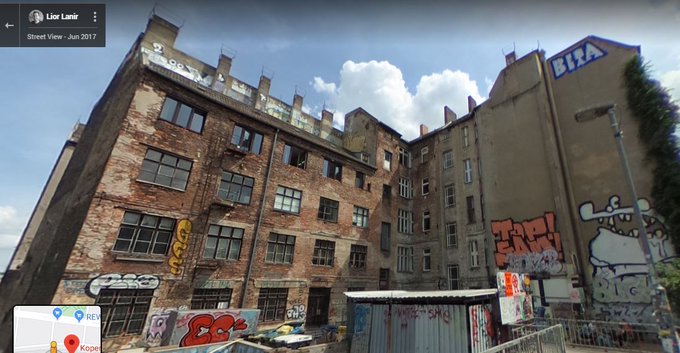 Maybe I should have placed the "I FOUND IT!" gif here.
Anyway, I have to admit that the artist did a very good job with all those details. Coloring is quite accurate, all chimneys and graffiti are present (also the crook-teethed crocodile one). And as it is located along the S-Bahn track, I must have passed the location multiple times with the train — I just didn't notice it. Or if I do, then I didn't realize what an interesting corner it was/is.
My lecturer in one of the classes this semester said that he really encouraged sketching as a method of presenting or narrating a building additional to using a photograph, because by sketching, one spends more time in recognizing and appreciating the elements that one sees, in contrast to a millisecond-click of a camera shutter.
I'm pretty sure that the corner the artist captured in her artwork isn't intentionally interesting, in the sense that one had it carefully planned to be a curation of things that constitute Berlin. But maybe through her beautifully made narrative, it is now interesting. Also maybe, if we take enough time to look at things and appreciate it, any corner can be interesting too.
Or also maybe, I am a little over-interpreting this small surprise from the internet that I got yesterday. But who knows 🙂
Cheers, T
P.S. Thank you internet.